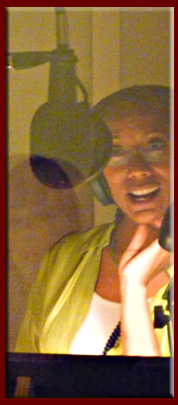 Audiobook Bootcamp, Levels I & II (for actors and engineer/directors)

Private Coaching (audiobooks & documentaries, vocal & speech production, accents, audition/role coaching, speech making & presentation)

Demo Production and Demo Express Workshop


Conservatory Seminars, Workshops & Curriculum Design
A fast-paced, concentrated and practical course for those looking to jump-start into the professional world of audiobook recording. Covers fiction and/or non-fiction as per client needs. Level I covers creative and technical preparation, performance choices, ear training, approaches and productivity; Level II continues with creative choices and on-mic techniques.
Seven hours of intensive audiobook technique & practice including, textual approaches and analysis, character voicing, pacing, text prep for high productivity, industry terminology, reading aloud, genre analysis, and survey listening. A must for anyone looking to gain competitive edge in the industry.
Offered Saturday (9-4PM) or

Sunday (10AM-5PM)
$250* for actors (includes Student Handbook)
$100 for engineers

*For discounts, see "Bring-a-Buddy" and "Audit Option" below.
Four personally coached, on-mic recording sessions at a professional audiobook studio. Using 3 assigned texts and 1 Actors' Choice, participants practice microphone technique and performance approaches including dynamics, breathing, character voicing, punch-in recording, using textual clues and creating nuance. Builds confidence, awareness and practical ability.
4 weeknights (5:30pm-8:30pm)
$585* for actors (includes $25 materials fee) $150 for engineers

*For discounts, see "Bring-a-Buddy" and "Audit Option" below.
AUDIT OPTION: Students rave about the wealth of unexpected benefits from this MasterClass observer experience. This option is ideal for engineers and actors with limited funds who want to see the "in the booth" experience up close and observe a professional director at work. An amazing value and a great opportunity for aspiring directors and engineers as well. (Offered for ABI & II)
See AB I & II schedules
Actors "BRING-A-BUDDY" $50 DISCOUNT: Get $50 off the price of AB class for you and a friend when you sign up together. Talk about a win/win situation. Applies to Audiobook Bootcamp only. See "Bring-a-Buddy" payment option on Registration & Payment page.
Work on what you need, when you need it, be it artistic, technical, even a career change transition! We can work on vocal strength, stamina, voicing and characterization, accents, textual nuances, marketing strategies, or preparation for your audiobook/documentary film auditions & bookings. You can even bring in your current demo for a quick assessment.
$95/55 min session / $425 for pkg of 5 (saves you $50)
$135/80 min session / $625 for pkg of 5 (saves you $50)
$125/hour for coaching house calls.

*Returning Audibook Express students recieve $10 off above rates.
Conservatory Workshops & Seminars
I apply conservatory level content and standards to my voice over, narration and accent classes, that address academic, artistic and real-world considerations. Curriculum design consulting, full semester, 1/2 semester and short workshops are available. Fees vary according to needs (class size, curriculum content, faculty training, etc.). Please call to access curriculum pages.
Get guidance and support through the entire process of making your demo, from selection of material to submissions to publishers and producers. In 5-6 coching sessions, I will help you identify your tone and vocal type range. Then 5-6 in-person or Skype coaching sessions, where we collaborate on material to excerpt, and coach our final cuts to show off your strengths. Finally, I direct your recording session using and engineer and "listener buddy" (you can opt out, but I highly advise it). I approve the final edit and mastering (any last minute changes/additions are made now); you receive final versions in .wav and .mp3 formats. We end with a closing consultation about to whom and how to submit your demo, ACX, and other work related issues.